One of the true joys of life in the Northwest is being able to get outside for a hike all year long. The weather's not always sunny, blue and dry, but it doesn't have to be. A positive attitude — coupled with an appreciation for natural beauty — goes a long way toward making any day on the trail a great one.
The right trail helps, like these winter-friendly hikes in the Northwest. So does the right gear, clothing and approach.
Essentials

A good waterproof and breathable rain jacket with a hood is key to fending off the elements on a hike. Layer accordingly underneath: wool or polyester long underwear if the temperature calls for it, lightweight hiking pants, and a wool or synthetic shirt. Remember not to wear cotton, as it absorbs water and doesn't dry well.
If it's chilly, add a fleece vest or pullover underneath your waterproof shell. And if the forecast calls for a real deluge, throw a pair of waterproof rain pants in your pack. They can be hot to hike in, but if it's really coming down, you'll be thankful you have them.
For your feet, go with synthetic or wool socks and waterproof boots or trail shoes. Just make sure their soles aren't too worn. You'll need the traction for waterlogged trails. A pair of waterproof gaiters can also help keep water out of your boots.
To keep the rain out of your face, wide-brimmed hats work well. Or you can just wear a baseball cap under your hood.
Extras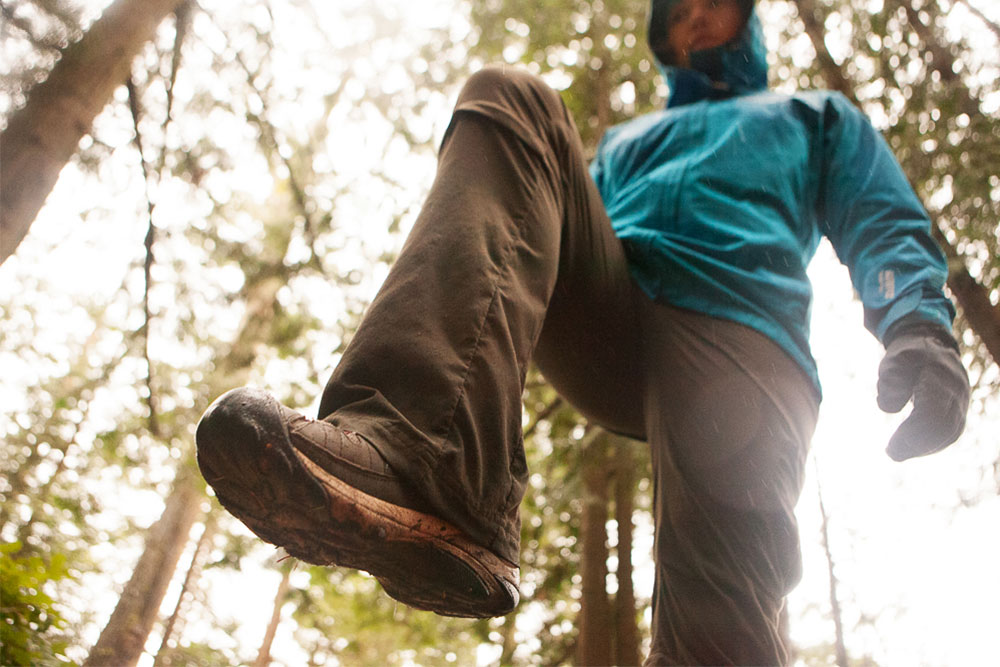 Don't already hike with trekking poles? Consider grabbing a pair. Not only do they help relieve the strain on your knees, but they'll help you keep balanced on slick trails.
If you're going to be out for a long day or even overnight, pick up a pack cover. This can help keep your pack and all of its contents dry. Some packs even have covers built in. A full-size plastic garbage bag works just was well. Recycled or reusable sealable bags are also great for keeping stuff dry inside your pack, as are waterproof carriers that are designed for specific gear like phones and cameras.
Some hikers have been known to slip a lightweight hiking umbrella into their packs to stave off trail showers. It doesn't hurt to have an extra bandanna or pack towel along for the stroll, either.
Finally, you'll love yourself and your rainy hike even more if you have a warm, dry change of clothes waiting for you in the car.
Still not sold on the idea of hiking in the rain? Head to one of these drier, sunnier Northwest spots instead.